CUSTOM KITCHENS, BATHROOMS AND LAUNDRY ROOMS
REGINA CABINETRY, RENOVATION & DESIGN
What better way to update and redesign your home than to get custom cabinetry installed from J & C Custom Cabinets Ltd.! Even the most discerning homeowner will recognize the craftsmanship of the cabinets and the quality of the installation.
Designed & Crafted Cabinets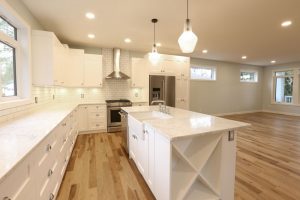 Our cabinet installers work with beautiful hardwood and vinyl materials to provide several designs and color options. Choose from a natural wood finish, or stains such as chestnut brown, whitewash, antique oak, pecan, cherry, walnut, rosewood, mahogany, and more to match or contrast the colors of your kitchen. We can create inset kitchen cabinet designs, including glass sash cabinet doors. We also fabricate china cabinets, kitchen overlay doors, pantry doors, spice racks, furniture style islands, and peninsulas with sinks to add additional functionality to your home. We can also install lighting underneath the upper cabinets, as well as Lazy Susan features. If it makes your life easier, we can create it.
We welcome your design ideas, and we can offer you countless varieties of our own. From simple functionality to custom sized areas cut out for flat screen TVs, microwaves, ovens, and other small appliances, we'll work with you from computer software simulations to cleaning up after the last bolt is tightened.
From creating storage space to adding aesthetic charm, our cabinets are second to none. Contact our Regina cabinet makers to get started on creating your cabinetry, built from the best material suppliers in Canada. All our work is done in-house to create modern, sophisticated designs that are unique for your home.
Professional Custom Cabinets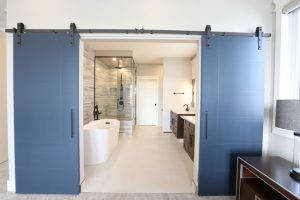 We believe what sets us apart from other cabinet design companies in Saskatchewan are:
Quick turnaround times
Quality control, with all work done in-house
Innovation
A design that reflects your personality
Thorough communication throughout the design and installation process
A great manufacturer warranty
Follow up services to ensure your satisfaction
The options are nearly endless and our craftsmen can work with any size room. From your starter home to your dream home, we offer designs that combine quality, functionality, and natural beauty.
Please contact us with any questions or concerns and we'll respond promptly and fully.